EDIT: you can see the picture in BIG here / EDITADO: podeis ver la foto en grande aqui
Our forum mate dani mac (Daniel Martin) showed us in this post the result of the night views of Toledo in which 50 people were coordinated to paint with light throughout the city.
Nuesto compañero del foro dani mac (Daniel Martin) nos mostró en este post los resultado de la panorámica nocturna de Toledo en la que se coordinó a 50 personas para pintar con luz toda la ciudad.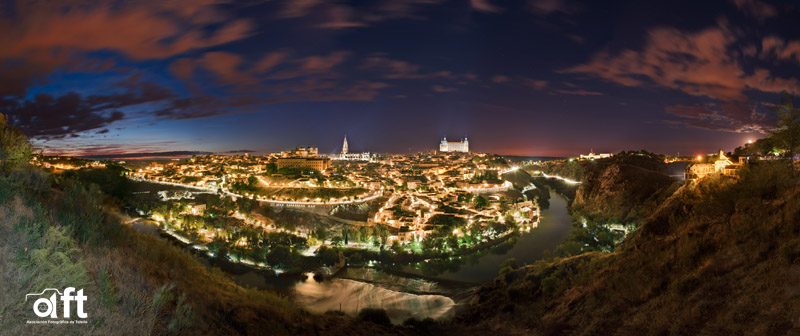 Daniel is the President of the Photographic Association of Toledo and have been kind enough to provide a detailed explanation of the project, as conceived and as carried out.
Do not miss it, it is very caborian:
Daniel es el Presidente de la Asociación Fotográfica de Toledo y han tenido la amabilidad de proporcionarnos una explicación detallada del proyecto, de como se gestó y como se llevó a cabo.
No os lo perdais, es muy caborian:
Text: Jose Maria Moreno.
Photo: Photographic Association of Toledo

The idea
It is very old and say that in all personal merit, but rather derived from the technique of multiple exposures to open chamber on display, which has been used regularly for a long time to illuminate «split» large dark spaces in a single exposure would have needed illumination means unattainable.

Well, that was the idea: to illuminate the dark areas of the city of Toledo in a panoramic night together. The possibility of transferring this idea to an entire city the possibilities considered in principle to form the Photographic Association of Toledo and seeing the enthusiasm of his magnificent novel partners and digital techniques, along with my passion for challenge, because I drove to see it almost viable.

Texto: Jose María Moreno.
Fotografías: Asociación Fotográfica de Toledo

La idea
Pues es muy antigua y diría que en absoluto de mérito personal,  sino más bien  derivada de la técnica de exposiciones múltiples a cámara abierta,  en exposición, que se ha utilizado habitualmente durante mucho tiempo  para poder iluminar «por partes» grandes espacios oscuros que en una sola exposición hubieran necesitado  medios de iluminación inalcanzables.

Pues esa fue la idea: iluminar las zonas oscuras de la ciudad de Toledo en una panorámica nocturna de conjunto. La posibilidad del traslado de esta idea a toda una ciudad la consideré en principio con posibilidades al formarse la Asociación Fotográfica de Toledo y al ver el entusiasmo de sus magníficos socios y las novedosas técnicas digitales, junto a la pasión que siento por los retos, pues que me empujaron a verla casi viable.

Tests
Prior to mobilize as many people, we felt the need to be clear about how and whether they actually would get success, the practical problems were few, although the theory was fine, is not the same light a nave of a cathedral, which a city of 2 square kilometers, how that is not the same, go!.

It all started with the release of the proposal on 06.04.2010 in the forums of the website of the association with a dramatic response and enthusiasm will not forget. In June of this year we prepared the first test in the lower part of the seminar rodadero along the banks of the river, with the collaboration of 12 partners, some of which were literally «hunted» by coming back from other interesting activities of the association.

We tested several traditional and some not known for application in astronomical photography, and I had news on that occasion with the help of the brilliant David Utrilla, founding partner and best photographer, architect indispensable for this activity along with Juan Carlos Ramos Carlos M. Baptist.

The tests consisted of light to flash a given area assigned to each «flasher» by several flashes, repeating his tour 5 times every minute, so that from the valley we had the opportunity to test various exhibitions. Before and after results were these:

Las pruebas
Antes de movilizar a tantas personas, nos vimos en la necesidad de tener claro cómo hacerlo y si  en realidad obtendríamos éxito, pues los problemas prácticos no eran pocos: aunque la teoría estaba bien, no es lo mismo iluminar una nave de una catedral, que toda una ciudad de 2 kilómetros cuadrados, ¡cómo que no es lo mismo, vaya!.

Todo empezó con el  lanzamiento de la propuesta el  6/04/2010 en los foros de la web de la asociación con una respuesta y entusiasmo espectaculares  que no olvidaré. En el mes de junio de este año preparamos la primera prueba en la zona baja de los rodaderos del Seminario junto a las riberas del río, con la colaboración de 12 socios, algunos de los cuáles fueron literalmente «cazados» al venir de vuelta de otras interesantes actividades de la asociación.

Probamos varias técnicas tradicionales y algunas que no conocía de aplicación en fotografía astronómica, y de las que tuve noticia en esa  ocasión gracias a la ayuda del genial David Utrilla, socio fundador y mejor fotógrafo, artífice indispensable de esta actividad junto a Juan Carlos Ramos y Carlos M. Bautista.

Las pruebas consistieron en iluminar con flash una zona determinada asignada a cada «flasheador»,  mediante varios destellos,  repitiendo su recorrido 5 veces cada minuto,  para que desde el valle tuviéramos la posibilidad de ensayar varias exposiciones. Los resultados antes y  después fueron éstos:

I confess that at first we were disappointed a little because the highlights were small, the city is very big and there are not many. However, intent on the matter, turning the issue and thanks to new techniques of astrophotography at large, we think that having clear the issue, it would not be repeated tours, a person could carry a small flash perfectly in each hand and could light up in about 5 minutes a fairly considerable walking and flashing their flashes at the same time.

The organization
At the meeting of the association from 13/06/2010, discussed the matter and formed a committee to get to work, which then joined Juan Carlos Ramos, and Carlos M. David Utrilla Baptist. There were several panoramic day and night from the same spots to see which areas were dark, how could light up and from where, identified several areas in 3 major areas: left, center and right.

Confieso que, en principio, nos decepcionó un poco pues las zonas iluminadas eran pequeñas, la ciudad es muy grande y no somos muchos. No obstante, empeñados en el asunto, dando vueltas al tema y gracias a las nuevas técnicas de fotografía astronómica por acumulación, pensamos que teniendo claro el  tema, no sería preciso repetir recorridos, que una persona podría llevar perfectamente un flash pequeño en cada mano y podría iluminar en unos 5 minutos una zona bastante considerable recorriéndola a pie y destellando sus flashes al mismo tiempo.

La organización
En la asamblea de la asociación del 13/06/2010, se expuso el asunto y se formó una comisión para ponerse a trabajar, a la que enseguida se sumaron Juan Carlos Ramos, David Utrilla y Carlos M. Bautista. Se hicieron varias panorámicas diurnas y nocturnas desde los mismos puntos para poder observar qué zonas quedaban oscuras, cómo podrían iluminarse y desde dónde, determinado varias zonas en 3 grandes áreas: izquierda, central y derecha.

He was also elected by vote takes place in the pan for what interesting proposals were prepared 5 marking its particular geographical location:

También fue elegido mediante votación el lugar de toma de la panorámica para lo que se prepararon 5 propuestas interesantes marcando su lugar geográfico concreto:

By voting among the members of the AFT was elected the station 1, followed closely by the 2 and 3, so that all subsequent work focused on planning the station 1.

Likewise, and with the experience of the tests, Juan Carlos Ramos, an experienced photographer, made a great tutorial and practical instruction on how to flash, settings, address, position and safety for the view that has been very useful.

A few days before, David Utrilla, Juan Carlos Ramos and Carlos M. Bautista placed each person in a specific place in their area, for what were considered to detail as the model for each flash and power range. Distributed their particular journey and the meaning, direction and angle of the flashes that failed to dazzle the cameras, getting to mark even the pedestrian route and start and end points. Copies are murals helped to appreciate the possible paths and roads, as well as the exact time of onset and duration of flares.

I include here the details of one of the 4 areas in which divided all Toledo:

Por votación entre los socios de la AFT fue elegida la estación 1 seguida muy de cerca por la 2 y por la 3, de manera que todo el trabajo posterior de planificación se centró en la estación 1.

Asimismo y con la experiencia de las pruebas, Juan Carlos Ramos, experimentado fotógrafo, realizó un práctico y magnífico tutorial de instrucciones sobre cómo flashear, ajustes, dirección, posiciones y seguridad para la vista que ha sido de gran utilidad.

Pocos días antes, David Utrilla, Juan Carlos Ramos y Carlos M. Bautista colocaron a cada persona en su lugar concreto dentro de su área, para lo que tuvieron en cuenta hasta el mínimo detalle como el modelo de cada flash y su potencia de alcance. Distribuyeron su recorrido concreto, así como el sentido, dirección y ángulo de los flashes para que no deslumbraran a las cámaras, llegando a marcar incluso su recorrido peatonal y los puntos de inicio y fin. Se ayudaron de copias murales para apreciar los senderos y caminos posibles, así como la hora exacta de comienzo y tiempo de destellos.

Incluyo aquí el detalle de una de las 4 zonas en las que dividieron todo Toledo:

Although we did not need high accuracy, time synchronization was achieved with previous adjustments for exact time on the Internet, system less outrageous than other proposals that we came up, like throwing fireworks, flares and stuff, and we come to consider very seriously by expected effectiveness.

The technique
We will not call it complicated, because it is not, but rather laborious and therefore making the issue. Panning is composed of horizontal scanning for 5 different takes approximately 30 degrees of rotation 30% overlap between them. This also has a great complexity, the problem comes in the exhibition as we have some differences in brightness between the bright lights (Alcázar and Cathedral) and low (riparian areas) of approximately 1:256 times, which means cover 8 steps exposure to the margins required to capture detail we go through 12 steps. The human eye is perfectly capable of absorbing these differences too well but the cameras did not, so we synchronous HDR shots with a difference of + -3 steps in each of the necessary shots in the panorama. So the shots were made immediately prior to the start time of the flashes.

All these flashes flashed for half an hour about three thousand times, for 7 minutes in each of the areas so that cameras could capture their area on time (21:30, 21:40 and 21:50), leaving 3 minutes of room to change positions of the cameras.

Here the camera technology was completely different, we knew the exposure for the many tests we did before, only needed to photograph at all clear, and resolve various technical problems of modern digital sensors that are designed to take pictures of half-hour ! such as excessive heat, noise and other cute digital problems. The solution came to us from David Utrilla, had to be asked to do series of uninterrupted burst of several seconds and then link them by software. There are several programs that do this astrophotography dramatically.

Well we did … and it was time the reeds.

The later edition was much more laborious but also complicated, you have to join the nearly 200 photographs taken of each chamber, to unite them so friendly to not nag each other and ready.

Just point some trivia: The final photograph in the station 1 has in Photoshop 27 layers, 20 masks and 5 actions, editing time has been 9 hours, 6 programs were used and full size 16-bit is 1 , 7 GB!

Do not want to develop this section because too heavy and would also like magic, something must be kept hidden Wink

Results:

Before

Aunque no necesitábamos una gran exactitud, la sincronización del tiempo fue lograda con ajustes previos por hora exacta en Internet, sistema  menos escandaloso que otras propuestas que se nos ocurrieron, como tirar cohetes, bengalas y cosas así y que llegamos a considerarlas muy seriamente por su previsible eficacia.

La técnica
No vamos a calificarlo de complicado, porque no lo es, pero sí bastante laborioso tanto la toma como la edición. Se trata de realizar panorámicas por barrido horizontal compuestas por 5 tomas diferentes a unos 30 grados de giro solapando un 30% entre una y otra. Esto tampoco tiene una gran complejidad, el problema viene en la exposición pues tenemos unas diferencias de luminosidad entre las luces altas (Alcázar y Catedral) y las bajas (zonas de ribera) del orden de 1:256 veces, lo que supone abarcar 8 pasos de exposición que con los márgenes necesarios para captar detalles nos vamos a 12 pasos. La vista humana es perfectamente capaz de absorber  esas diferencias sobradamente pero las cámaras no, por lo que hicimos tomas sincrónicas en HDR con una diferencia de +-3 pasos en cada una de las tomas necesarias en la panorámica. Así se realizaron las tomas inmediatamente  anteriores a la hora de comienzo de los flashes.

El conjunto de estos flashes destellaron durante media hora unas tres mil veces, durante 7 minutos en cada una de las zonas para que las cámaras pudieran captar su zona a su hora (21:30, 21:40, y 21:50) dejando 3 minutos de margen para cambiar las posiciones de las cámaras.

Aquí la técnica de cámara fue completamente distinta, conocíamos la exposición por las numerosas pruebas que hicimos anteriormente, sólo era necesario fotografiarlos a todos claro, y resolver varios problemas técnicos de los modernos sensores digitales ¡que no se han diseñado para hacer fotos de media hora! como son el excesivo calentamiento, el ruido digital y otros lindos problemas. La solución nos vino de David Utrilla: había que plantearse hacer series por ráfaga de varios segundos ininterrumpidamente para luego por software unirlas.  Hay varios programas de fotografía astronómica que realizan esto de forma espectacular.

Pues así lo hicimos …y llegó la hora de las cañas.

La edición posterior fue mucho más laboriosa pero tampoco complicada, hay que ensamblar las casi 200 fotografías tomadas de cada cámara, unirlas de modo amigable para que no regañen unas con otras y listo.

Sólo apuntar algunos datos curiosos: La fotografía final en la estación 1 lleva en Photoshop 27 capas, 20 máscaras y 5 acciones, el tiempo de edición ha sido de 9 horas, se han utilizado 6 programas y su tamaño completo a 16 bits es de 1,7 Gb.!!

No queremos desarrollar excesivamente este apartado porque se haría muy pesado y además, como en la magia, algo  debe mantenerse siempre oculto 

Los resultados

Antes

After

Después

Details

Detalle

History Data
Production: September 25th, 2010 at 21:30 pm
Approximate number of flash output: 3,000
Photographers: 50
Illuminated area: 100,000 square meters
Set available: 2 square kilometers
Chambers: 4
Total number of pictures taken, including tests: 1,200

Authors: including a helper if not in the AFT, as does our beloved Eva Corral, and are slow … are these: Juan Carlos Ramos, David Utrilla, Carlos Moral Bautista, Francisco Camino, Andrés Zamorano, Isi Hernández, Laura Paredes , Eduardo Sanchez Butragueño, Eduardo Salas, Vanesa Gómez, Antonio Escribano, Richard Sheriff, Francisco Javier Sepulveda, Alvaro López Velázquez, Pablo López Núñez, Rosa Herrera, Dani Martín, Ángel Cano, Sponsorship Navarro, Juan Carlos Perez, Luis Arribas, Rosa Mayoral Jose Maria Moreno García, Jose Luis Sánchez Gálvez, Marian Arroyo Blasco, Julián Lozano, Angel Diaz, Soledad Tante, Gregorio Pérez Saavedra, Felix Ortega, Julián Nieves Camus, Cristina Sánchez-Crown, Daniel López Vázquez, Rubén García, Rubén Gómez Lanza Laura Diaz, Alejandro Moreno, Adrián Hernández, Eva Corral, Arturo Menchaca, Manuel Nieto, Catherine, Beatriz López, Blanca riders, Jesus the Word, Alfonso Carlos De Ancona, Sagrario Téllez, Juan Encinas, Arturo Gutierrez and José María Moreno Santiago.

It is also required to cite here all the members of this association who, for various reasons or obligations, could not attend but who have supported and encouraged all times sen.

Without a doubt, is the first time in the history of Toledo, held a panoramic picture of the entire city this way and we believe that probably any other place or at least we are not aware of anyone having done so.

Not wishing to boast no flowers, when you see something and can be made to understand, imitate, improve, and criticize, missing more, but think, machinery and do it from the absolute zero, we believe it has any merit, the members of the Photographic Association Toledo deserve.

P. D. … Toledo … shake, threaten to not be the last.

Datos para la historia
Realización: 25 de Septiembre de 2010 a las 21:30 h
Nº aproximado de destellos de flash: 3.000
Fotógrafos: 50
Superficie iluminada: 100.000 metros cuadrados
Plató disponible: 2 kilómetros cuadrados
Cámaras: 4
Nº  total de fotografías tomadas, incluyendo las pruebas: 1.200

Autores:  incluyendo  algún ayudante que si no están en la AFT, como dice nuestra querida Eva Corral, ya están tardando…, son éstos: Juan Carlos Ramos, David Utrilla, Carlos Moral Bautista, Francisco Camino,  Andrés Zamorano, Isi Hernández, Laura Paredes, Eduardo Sánchez Butragueño, Eduardo Salas, Vanesa Gómez,  Antonio Escribano, Ricardo Alguacil, Francisco Javier Sepúlveda, Álvaro López Velázquez, Pablo López Núñez, Rosa Herrera, Dani Martín, Ángel Cano, Patrocinio Navarro, Juan Carlos Pérez,  Luis Arribas, Rosa Mayoral, José María Moreno García, Jose Luís Sánchez Gálvez, Marian Blasco Arroyo, Julián Lozano, Ángel Díaz, Soledad Tante, Gregorio Pérez Saavedra, Félix Ortega ,Julián Nieves Camuñas, Cristina Sánchez-Heredero, Daniel López Vázquez , Rubén García, Rubén Gómez Lanza, Laura Díaz, Alejandro Moreno, Adrián Hernández, Eva Corral, Arturo Mencia, Manuel Nieto, Catalina, Beatriz López, Blanca Cabalgante, Jesús del Verbo, Alfonso Carlos De Ancos, Sagrario Téllez,  Juan Encinas, Arturo Gutiérrez y José María Moreno Santiago.

También es obligado citar aquí a todos los integrantes de esta asociación que, por diferentes razones u obligaciones, no pudieron asistir pero que nos han apoyado y animado sen todo momento.

Sin ninguna duda, es la primera vez en la historia de Toledo, que se realiza una fotografía panorámica de toda la ciudad de esta forma y creemos que posiblemente de cualquier otro lugar o al menos, no tenemos noticia de que nadie lo haya hecho.

No queremos echarnos ninguna flor, cuando se ve algo ya realizado se puede comprender, imitar, mejorar  y criticar, faltaría más,  pero pensarlo,  maquinarlo y hacerlo  desde el más absoluto cero, creemos que tiene algún mérito, los integrantes de la Asociación Fotográfica de Toledo se lo merecen.

P. D.  …Toledo, …tiembla, amenazamos con que no será la última.